KIDS DIVING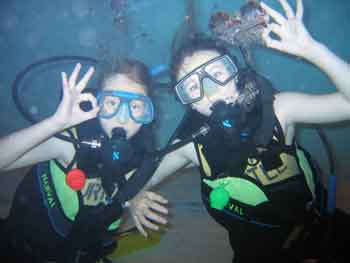 We offer SCUBA diving to children from 8 to 16 years old. We have mini equipment for mini divers!
Friday evenings at Kingswood leisure Centre is the Venue.
We offer: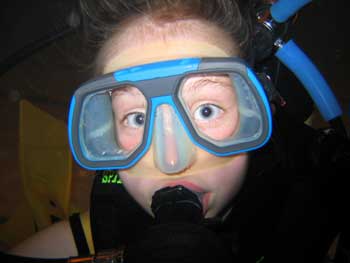 • INTRODUCTION
During these sessions we make learning fun with games that build confidence as individuals and team building skills. We have a lot of fun and have been working with kids in scuba diving since 1989.
Parents are welcome to join us in the pool, We must have a guardian with them at the pool side for the first time.
PRICE: See our price list
• Regular monthly sessions
For those that had a great time on there intro dive we offer pool session approx every 4 to 5 weeks to have more fun and get more confident in the water.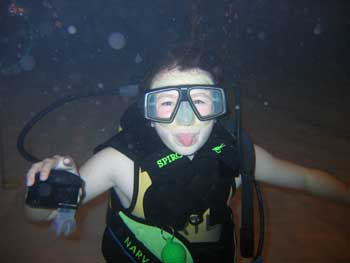 See PADI Bubblemaker for more details.
• Kids parties
If your son or Daughter or you want a different type of Birthday party why not try our kids party. We take up to 10 children at one pool session. Lots of fun and games!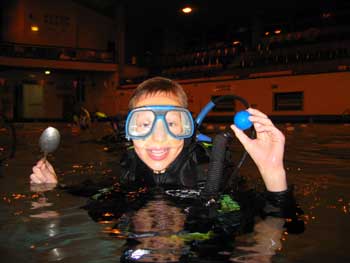 • RYA powerboat courses
Kids can also do Powerboat courses with us.
They need to be 8 years for the RYA certificate. We also offer boat experiences for the younger ones also. Please go to Power boat section to learn more.
• PADI Openwater courses
For the Kids that would like to be certified as PADI divers there are the Openwater courses.
WE are able to teach kids of 10 years and up. But under 12 years it's up to the parents and also the instructor to evaluate the maturity and readiness of the child first.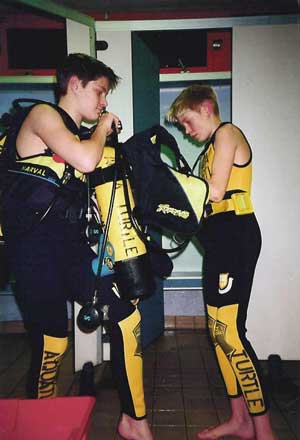 There are restrictions on depth and who you can dive with.
If you are interested in taking the course the best thing is to do an assessment pool dive and we will talk with the parents to decide the best plan of action.
The course itself is the same as for adults so please refer to the openwater course section for further details.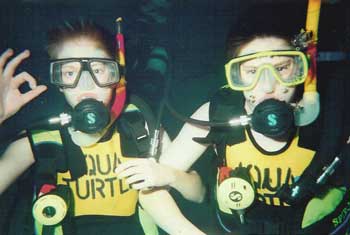 • Snokelling courses
If you or one of your children wish to learn snorkelling we are very happy to teach that and its lots of fun! You can get a PADI certification in Snorkel diving called Skin Diver!