PADI Emergency First Response (EFR)
PADI EFR is an important skill we all need to know.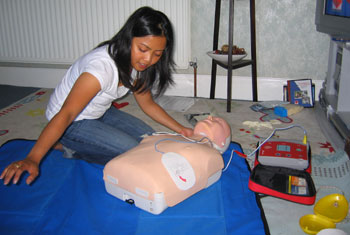 Med learning the de-fib 2006
"I'm clear, your clear, we're all clear"
In some European Countries it is even a legal requirement to hold a driving licence. If a Friend or loved one is hurt or falls suddenly ill, ask yourself honestly, do you think you would know the right thing to do?

The Rescue Diver course cannot be undertaken unless you have a valid First Aid and CPR qualification. The PADI EFR course meets these requirements and is a basic training in CPR and emergency care.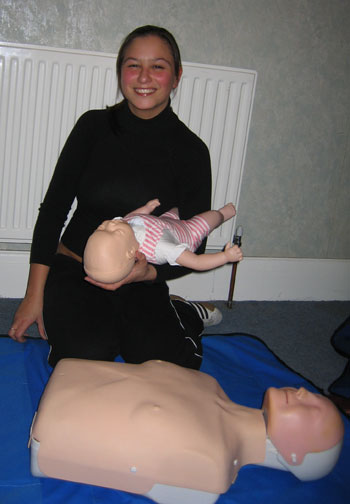 Jess on Care for Children Course
It is a medically based course designed to teach students at a simple level the same procedures and priorities used by paramedics. The PADI EFR course is recognised in over eighty countries and conforms to International First Aid standards.

How is the Course Conducted?
There are a series of video's broken up by Instructor demonstrations. Then you get your opportunity to play victim and rescuer.

There are seven basic skills of patient care covered in this course.

· Primary Assessment
· Obstructed Airways
· One Rescuer CPR
· Control of bleeding
· Shock Management
· Illness assessment
· Injury assessment
· AED Automated external defibrillator

The Schedule
The course will last approximately eight hours over one day usually the Saturday of the first weekend of the Rescue Diver Course.

Courses are also conducted over several evenings. We will schedule the course around you.

What Qualifications do I need?
You must be at least 12 years of age. No prior certification is required and non-divers are most welcome.

Course fee
The cost is £80. Or £60 when in conjunction with the Rescue Diver course. This includes all tuition fees, MFA manual, personal barrier kit, bandage pack, certification card wall certificate and jacket emblem.

Back to Top

Back to Diving Courses