PADI Skin Diver Course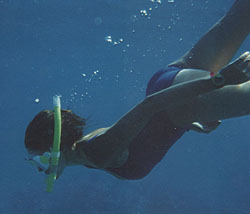 The PADI Skin Diver course is all about Snorkelling. This is a great way to start your introduction to the underwater World. This course is great fun. There is a certification awarded at the finish.
The Course
This is the first course in PADI that gives you a certification at the finish. The course teaches you good Snorkelling techniques. In this course you first learn all about the different types of Skin diving equipment. What to look for when choosing equipment. How to take care of the equipment. And of course how to use all this equipment. The course teaches the student to relax on the surface while breathing from a snorkel. How to move on the surface, underwater and how to equalise pressure. You will learn all about safe breath holding techniques. You will also learn tip's on how to avoid damaging the fragile underwater environment. This is a great course for children and adults who like active sport.
Who can Participate?
You must be eight years old or above. No previous knowledge of Skin Diving is required but you must be able to swim and be comfortable in the water.
Course Scheduling
The course is conducted over three pool sessions. Before each pool session you will have a group meeting to talk through the various topics included in this course.
Course fees
For course fee prices, please see our
prices
page. The course includes three pool sessions and certification.
All equipment is provided.
Back to Top
Back to Diving Courses