The PADI Seal Team Program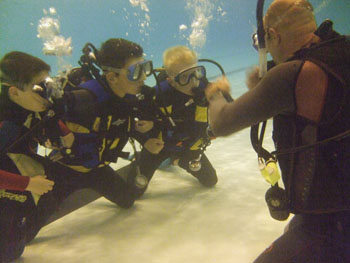 The PADI Seal Team is for children 8 years and older who are looking for fun in the pool with SCUBA diving equipment on.
The PADI Seal Team program is broken into two parts.
Part one, Aquamission one to five, Teaches kids the basics of diving. This includes Buoyancy control, Mask clearing and Regulator Recovery.
After building a solid foundation of SCUBA skills, kids move on to part two.
Part two is full of specialty Aquamissions. These include, Navigation, Creature ID, Snap shot, inner space and lots more. The best part or the Specialty Aquamissions is they reinforce safe diving skills while the kids are having fun. PADI seals get to sample a wide variety of dives.
The Sessions are held on Friday evenings at Kingswood leisure centre from 8 till 10pm. Each Child joins a seal team with no more than 6 children. They are given one date per month which works very well as the children never get bored. It gives Children time for other activities. Makes it easier financially. Dates are fixed well in advance to minimise missed meetings, which if occur can be rescheduled.
PADI Seal Team
Helps children learn responsibility
Teaches children about the aquatic environment.
Is a fun pool-only experience.
Is conducted by a certified, trained PADI Professionals
In addition, it provides parents with a structured program that lets their children develop important life skills. Skills like working as a team, planning, taking care of equipment and each other. Checking each others equipment, Helping others with problems. Washing and putting away equipment. All this and much more.
The Seal team is about having fun underwater. Its an excellent way to introduce kids to SCUBA diving prior the full PADI OpenWater course.
Course fees
For course fee prices, please see our prices page. The course includes five pool sessions and certification.
All equipment is provided.

Back to Top

Back to Diving Courses