RYA Powerboat Level 2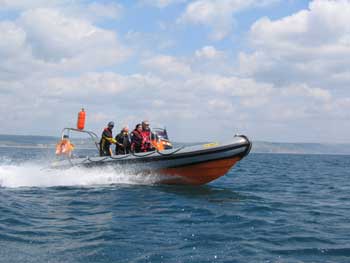 This course is for Adults and Children of 12 years and upwards.
You do not need to have any experience or knowledge of boats to participate. It's a Two day fun packed course providing you with skills and knowledge to drive a powerboat safely. At the end of this course you will receive the RYA powerboat 2 which can also give you the international certificate of confidence required overseas.
Again candidates under the age of 16 will be endorsed.
Included in this course you will learn all that is covered in RYA powerboat level One. In addition to this you also learn more on safety checks, maneuvering at low and high speed, coming along side, anchoring, man overboard and lots more. Everybody comes back with a big smile after the high speed stuff!
We also cover more chart work, weather and tides in the classroom, don't worry there are no theory tests or exams.
At the end of this course you will be able to safely drive and manage, with experienced crew a powerboat. With knowledge of Weather, sea conditions understanding and respecting the limitations of the boat and crew.
Course minimum Duration: Two days.
Course cost: £265